About Credit24
Credit24 was launched in 2012 and comes under the ownership of IPF Digital which has approved more than 200,000 loans to date in Australia. Credit24 provides two loan products, including a Line of Credit and a Fixed Personal Loan.
Key Features
Each of the two loan products provided by Credit24 has its own key features.
Line of Credit
A line of credit allows borrowers to get an approved credit limit from the lender, and use it only up to the extent as required. Borrowers are then charged for only the amount that remains withdrawn over a particular period of time. This loan type is suitable for those who have a step-wise credit requirement and don't require loan funds all at once.
The line of credit being offered by Credit24 has the following features:
The approved loan limit can vary between $500-$10,000.
There is are no establishment and monthly service fees.
Interest is charged at 48% per year.
The lender does not charge any withdrawal fee.
The maximum repayment period allowed under the line of credit is 36 months.
The line of credit may be approved on the same day and allow instant withdrawals.
The lender will charge a late payment fee of $10 every week.
Fixed Personal Loan
Personal loans are suitable for borrowers who have a shortfall of funds and need an urgent funding source to cover immediate expenses.
The fixed personal loan product available at Credit24 works like any other personal loan. Once approved, all funds are deposited into the borrower's bank account and charged until repaid.
Credit24 offers small, medium, and large personal loans, all of which have different features and terms.
The lender does not charge any fees if borrowers make early repayments on all of these loans.
The following table illustrates all these features.
| | | | |
| --- | --- | --- | --- |
| | Small Loan | Medium Loan | Large Loan |
| Loan Amount | $500-$2,000 | $2,100-$5,000 | $5,100-$10,000 |
| Establishment fee | 20% | $400 | $0 |
| Monthly service fee | 4% | 0% | $0 |
| Interest | N/A | 48% per year | 48% per year |
| Loan term | 6-12 months | 12-24 months | 12-36 months |
Repayments can be made on a weekly, fortnightly, or monthly basis. Repayments are set-up to be automatically deducted from the borrower's bank account via the direct debit facility. In case a borrower fails to make a repayment, they will be charged a late payment fee of $10 every week.
How Much Does A Credit24 Loan Cost?
The following table illustrates the maximum total amount you are likely to repay on a loan obtained from Credit 24.
| | | | |
| --- | --- | --- | --- |
| Loan Type | Loan Amount | Loan Term | Total Repaid |
| Line of Credit | $3,000 | 36 months | $5,510.52 |
| Line of Credit | $7,000 | 36 months | $12,858.12 |
| Personal Small Loan | $2,000 | 12 months | $3,360 |
| Personal Medium Loan | $5,000 | 12 months | $7,800 |
| Personal Large Loan | $10,000 | 12 months | $14,800 |
In the case of a line of credit, it is being assumed that the borrower keeps the entire credit limit withdrawn for the duration of the loan term.
Pros and Cons
The following pros are associated with the products and services being provided by Credit24:
The entire loan application is completely online
Borrowers may apply any time of the week for a loan.
The lender allows flexible repayment terms.
The rates being charged by Credit24 on personal loans are lower compared to many other lenders in the industry, especially considering it is an unsecured loan.
Loan amounts of up to $10,000 are available.
The lender accepts early repayments without any additional charge.
The products and services being offered by Credit24 have the following cons:
Applicants with a bad credit score are not considered for a loan.
FAQs
How long does it take for Credit24 to approve a personal loan application?
It may take Credit24 up to 3 working days to process and approve a personal loan application.
Does the lender charge any origination fees?
Yes, for a personal loan application, the lender will charge a loan origination fee of $400 once a loan application has been approved. No such fee is applicable to a line of credit.
What is the maximum I can borrow from Credit24?
The maximum loan amount available through Credit24 is $10,000.
Does Credit24 accept applicants with a bad credit history?
No, Credit24 considers applicants that have a good credit score and also meet its other criteria.
Eligibility Criteria
To be eligible for a Credit24 loan, applicants must:
Be a permanent resident or citizen of Australia.
Be over the age of 18.
Be employed and also receive regular income directly into their bank account.
Hold a good credit score.
Have a regular income that exceeds $600 in a month. Less than 50% of this income can come from Centrelink and other similar benefits schemes.
Have a maximum of 1 other small loan still outstanding.
Customer Support
Credit24 provides its customers with the facility of reaching out to a customer services representative between 8 AM to 8 PM on weekdays and 9 AM to 5 PM on weekends. You can reach out by either dialing 1800 091 967, sending a fax at 02 8079 0791, or sending an email at [email protected]. An inquiry form is also available on the lender's website in the Contact Us section. An online chat box is also available on the website if you are looking for instant answers.
Application Process
To apply for a Credit24 loan, applicants need to follow these steps.
Step 1 – Complete the online application form
To apply for a Credit24 loan, applicants need to visit the lender's website and click on the Start Application button, as shown in the image below.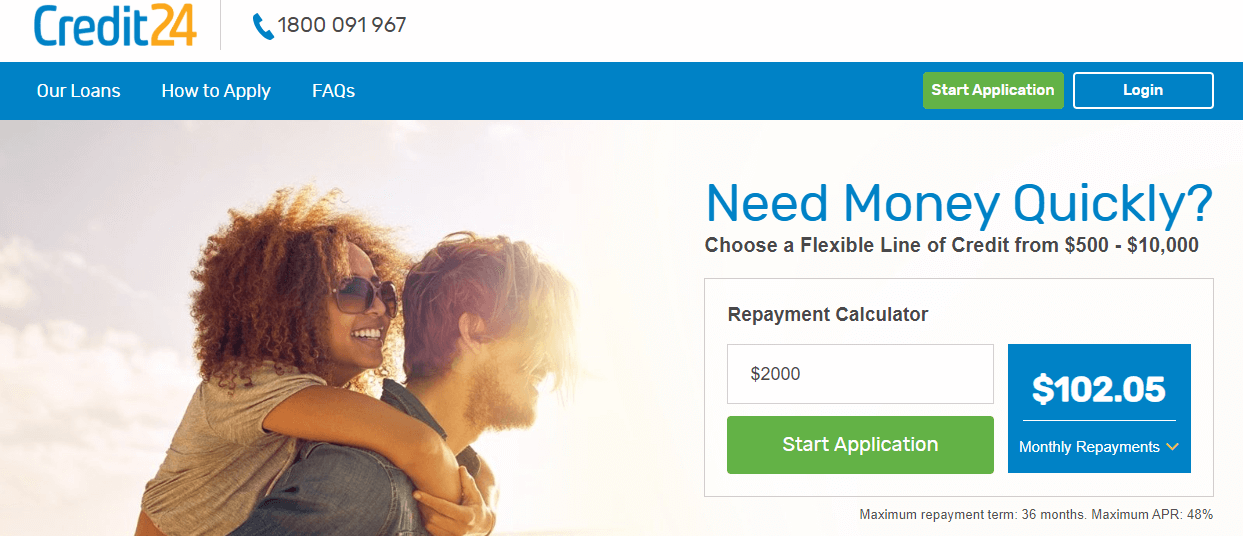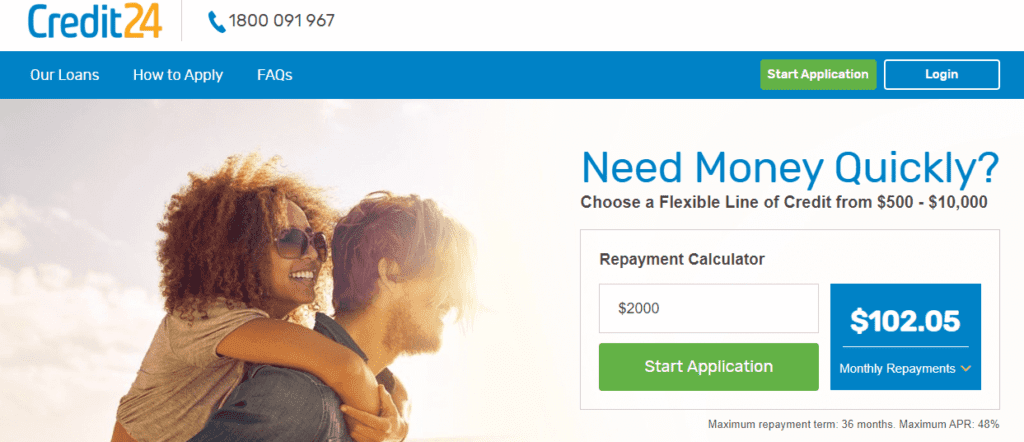 The rest of the application process is self-explanatory. Simply follow the instructions on the screen. Make sure you have all the necessary information handy, including valid contact information such as mobile phone number and email address, ID details, and online banking services linked with your bank account.
Step 2 – Verification of application
Credit24 will verify all of the information you provide on the application form through third-party verification systems. However, it will still require you to submit your 90-day bank statement. The fastest way to do this is by using the Illion Open Data Solutions, an online company that can help you easily submit all required bank statements online and with ease. Submitting bank statements through Illion can speed up the loan decision process.
Step 3 – Disbursement of loan
Once a loan application has been verified and approved, borrowers can expect to have the loan funds available to them on the same day.