Cash Stop is a small and medium loan facilitator and provider operating in Australia, with loans of amounts of $300-$5,000 for a loan term of 1-24 months. The lender also provides pawnbroking services, whereby it allows people to pledge personal assets against a loan amount, or sell an item to Cash Stop for a price.
The lender prides itself in its fast approval time of a few minutes, making it ideal for people looking for urgent funds. Cash Stop also operates a number of branches in Australia, enabling many people who are not tech-savvy to apply for a loan in-branch with the help of a Cash Stop representative.
How Much Does A Cash Stop Loan Cost?
Cash Stop provides small loans at the following rates:
An origination fee of 20% is charged on every loan.
A monthly fee of 4% is charged on every loan.
Medium loans may be charged with the following rates, which is the maximum as allowed under Australian law:
An initial fee of $400 is charged at the very beginning as an establishment fee.
48% APR is charged on the loan amount.
Borrowers can expect to pay the following in total loan repayments.
| | | | |
| --- | --- | --- | --- |
| Loan Type | Loan Amount | Repayment Term | Total Repayment |
| Small Loan | $500 | 3 months | $660 |
| Small Loan | $1,000 | 3 months | $1,320 |
| Medium Loan | $2,500 | 6 months | $3,319.26 |
| Medium Loan | $5,000 | 6 months | $6,180.69 |
The actual charges applied on the medium loan depend upon the lender providing the loan. Cash Stop provides as well as facilitates medium loans. When it facilitates medium loans, it reaches out to only one creditor called Australian Capital Financial Services. The charges applied by this lender are stipulated in the loan agreement that is presented to the applicant once a loan application has been approved. Borrowers are advised to confirm all costs before signing the loan agreement.
Key Features
Cash Stop loans share the following characteristics:
Loan amounts are available between $300-$5,000, although the lender may not approve the desired amount if the borrower fails to pass its affordability and eligibility assessments.
The loan application process is completely online.
The lender uses the direct debit system to automatically deduct monthly payments from the borrower's bank account.
Pros and Cons
Cash Stop loans have these pros:
The completely online application process does not require any physical documentation, resulting in a faster approval decision.
No penalties are charged if the borrower makes early repayments.
Accepts applications from those with a poor credit history and those who are on Centrelink/government benefits.
The following cons are associated with Cash Stop services:
Medium loan costs are not clearly defined on the website.
FAQs
How quickly does Cash Stop disburse funds once the loan has been approved?
Funds are disbursed in 15 minutes through the Instant Payment (NPP) facility and may show up in your bank account instantaneously if the bank supports NPP as well. However, in case the bank does not have an NPP service, then it may take up to 2 business days for funds to transfer into the bank account.
Does Cash Stop charge an early repayment fee?
No, Cash Stop does not charge a fee in case the borrower makes early repayments on the due loan amount.
Are Cash Stop loans secured?
No, Cash Stop loans are unsecured.
How do I make repayments on my Cash Stop loan?
Repayments are made automatically via the direct debit facility, whereby the lender already has the authority to charge your account with the due payment.
Eligibility Criteria
Cash Stop requires that all of its applicants fulfill these borrowing criteria. Applicant's must:
Be a permanent resident or citizen of Australia
Be at least 18 years old
Have a valid email address and mobile phone number
Earn a regular income that exceeds $300 on a weekly basis, and directly deposited into their bank account.
Customer Support
Cash Stop has an extensive agent and branch network across Australia, and borrowers can find the nearest one by using the tool available on the lender's website. To connect with the nearest branch, customers may also call 1300 721 001.
In case you have any feedback pertaining to Cash Stop services, representatives of the lender can be reached for this purpose on the number mentioned above. To connect with the collections team, simply dial 1300 558 428 or send an email at [email protected].
The online loans team can be reached by dialing 1300 762 261, or sending an email at [email protected]. An online form is also available at their webiste, which can be used to submit any query that customers may have about a Cash Stop product or service. A representative then gets back to the customer over the phone or email.
Application Process
Step 1 – Gathering all required information and documentation
Although no physical documents are required to file a loan application with Cash Stop, the lender still requires some information to be provided by an applicant before an application may be processed.
This includes personal details such as name and contact details, information about the applicant's employment including employer's contact information (employers may be contacted to verify the income as mentioned by the applicant in the form), and digital copies of bank statements for the 3 months prior to filing the application sent through Credit Sense. For medium loans, applicants may also be required to submit income statements.
Step 2 – Filing the online application
The online application form can be accessed by going on the lender's website. Applicants need to click on the Apply Now button, as shown below, to proceed to the application form.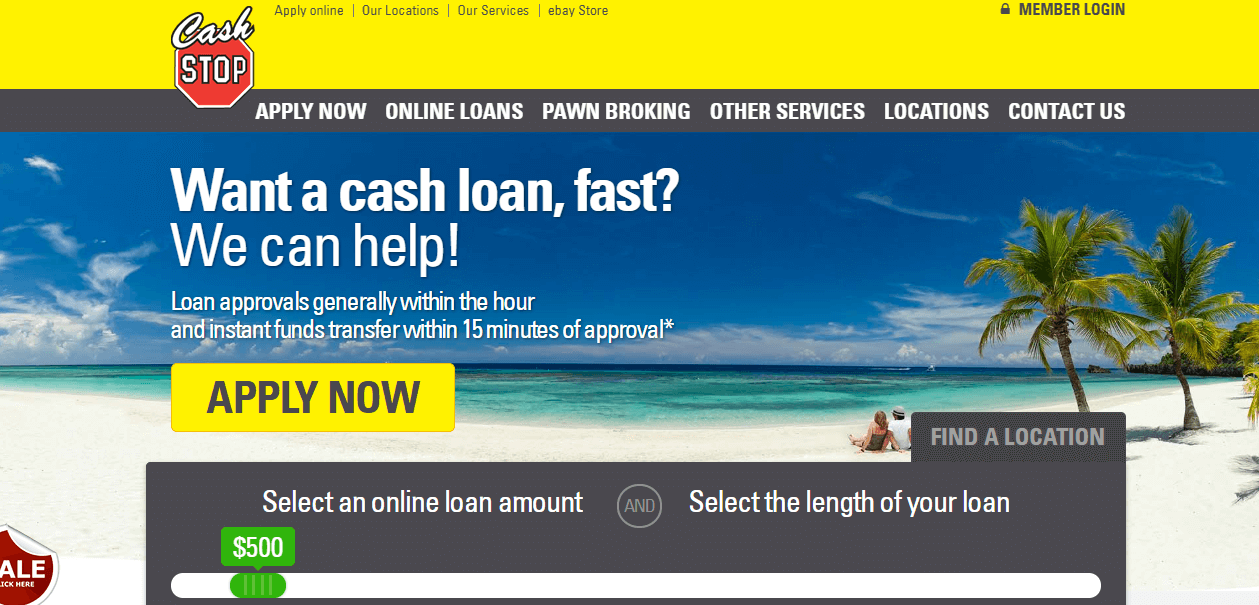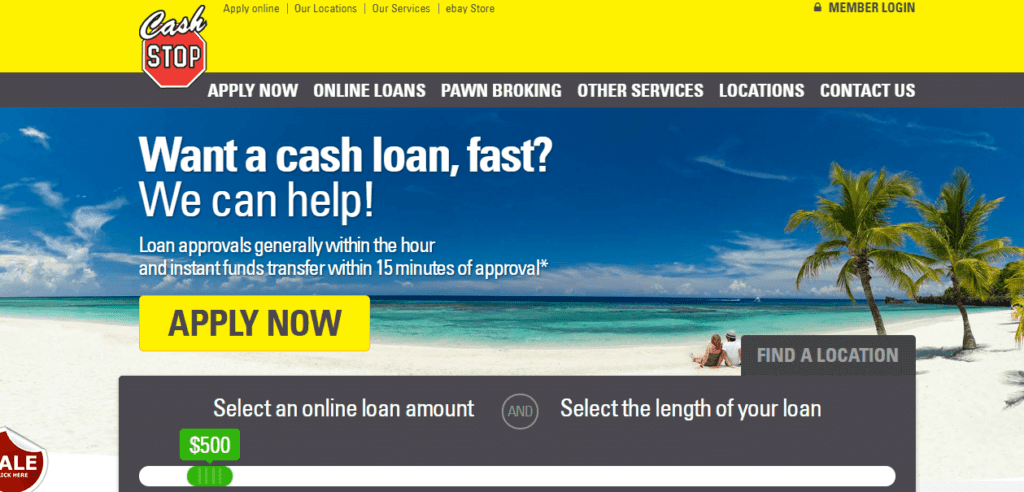 The application form, as shown below, requires information about the required loan, and then the applicant's information.
Once the entire form has been completed, applicants need to submit it for deliberation.
Step 3 – Receiving approval
Cash Stop is able to give approval against a loan application within a few hours of filing, in most cases. The lender is also able to disburse the loan amount on the same day, although funds may not reach the borrower's bank account until the next business day due to banking hours.