Cash Train is a short-term lender in Australia, providing loans of up to $2,000 for a period of 10 weeks to 3 months. The loan originator for Cash Train is called Online Loans Pty Ltd, which is one of the leading providers of cash loans in the country and regulated by the ASIC. Cash Train specializes in the provision of loans to borrowers looking for emergency funds.
How Much Does a Cash Train Loan Cost?
Since Cash Train is regulated by the ASIC, it offers loans at the maximum charge allowed by law: an establishment fee of 20% and a monthly fee of 4%. These costs are applied over the maximum allowed loan term of 3 months.
For example, on a $1,000 obtained for a 3 month/10 week period, borrowers can expect to pay a total of $320 in total charges. This amounts to a maximum APR figure of around 110.38% for weekly payments, 101.77% for fortnightly payments, and 70.65% for monthly payments. The charges remain the same regardless of whether the loan term is of 10 weeks or 3 months.
The following table shows the costs that borrowers would have to bear on loans acquired through Cash Train loans.
| | | | |
| --- | --- | --- | --- |
| Loan Product | Amount Borrowed | Repayment Period | Total Repaid |
| Loan | $500 | 3 months | $660 |
| Loan | $1,000 | 10 weeks | $1,320 |
| Loan | $1,500 | 10 weeks | $1,980 |
| Loan | $2,000 | 3 months | $2,640 |
In case the borrower misses a due payment, Cash Train applies a $25 fee for every missed payment deadline.
Key Features
Cash Train loans have the following features:
Loans of amounts between $200-$2,000 are available. First-time borrowers are limited to borrowing up to $800.
The loan term can be either 10 weeks or 3 months, depending upon the borrower's preference. This has no impact on the total cost of the loan.
If split across weekly payments, borrowers can choose to make either weekly or fortnightly payments for 10 weeks. If monthly payments are chosen, then the loan needs to be repaid in three monthly payments.
First-time borrowers are limited to borrowing up to $800 from Cash Train. Returning customers can apply for a loan of up to $2,000.
Loans are deposited directly into the borrower's bank account after approval has been given.
Loan Repayment
Borrowers have the option to repay the loan in either 10 weekly, 5 fortnightly, or 3 monthly payments, with no impact on the total charges applicable on the loan.
Pros and Cons Of Cash Train Loans
The following pros pertain to the services being offered by Cash Train:
Smaller repayment installments (compared to payday loans)
Easy-to-understand cost structure
Only the recent financial circumstances of the applicant are considered
Cash Train's services have the following cons:
No automatic approvals for renewals, even for repeat customers
FAQs
Am I eligible for a Cash Train loan if I get paid in cash?
No, your income must come directly into your bank account to qualify for a Cash Train loan.
Is a 10-week loan provided by Cash Train cheaper than a 3-month loan?
No, Cash Train charges the same costs to loans with either repayment terms.
How much can first-time customers borrow through Cash Train?
The maximum allowed for first-time borrowers is $800, which increases for repeat customers.
Is Cash Train a payday lender?
No, payday loans usually have a much shorter repayment term and are likely to be more expensive.
Eligibility Criteria
To apply for a loan with Cash Train, applicants must meet the following eligibility criteria.
Be over the age of 18 years
Hold valid employment, full-time or part-time, in Australia.
Have a regular income of over $1,200 that is deposited in your bank account. More than 50% of this income must come from sources other than Centrelink/government benefits payments.
Be a resident of Australia
Have adequate affordability to make loan repayments on time
Customer Support
There are multiple ways prospective borrowers can get in touch with Cash Train representatives regarding any queries they may have. Prospective borrowers can choose to call at 08 9420 1480, send an email at [email protected], or write at their address 4/25 Prowse Street, West Perth, WA 6005.
For customers, Cash Train has an online chat facility for fast response, although this works only during official hours. In case customers have any queries pertaining to repayments, they can call at 1800 891 981 or send an email at [email protected].
Application Process
Cash Train has an online application process, and you can apply for a Cash Train loan easily by following these steps.
Step 1 – Selecting the loan and accessing the application form
The online application form can be accessed by visiting the Cash Train website at cashtrain.com.au. On the website's homepage, as shown below, select the amount you wish to borrow, the payment frequency, and confirm the repayment details provided on the right.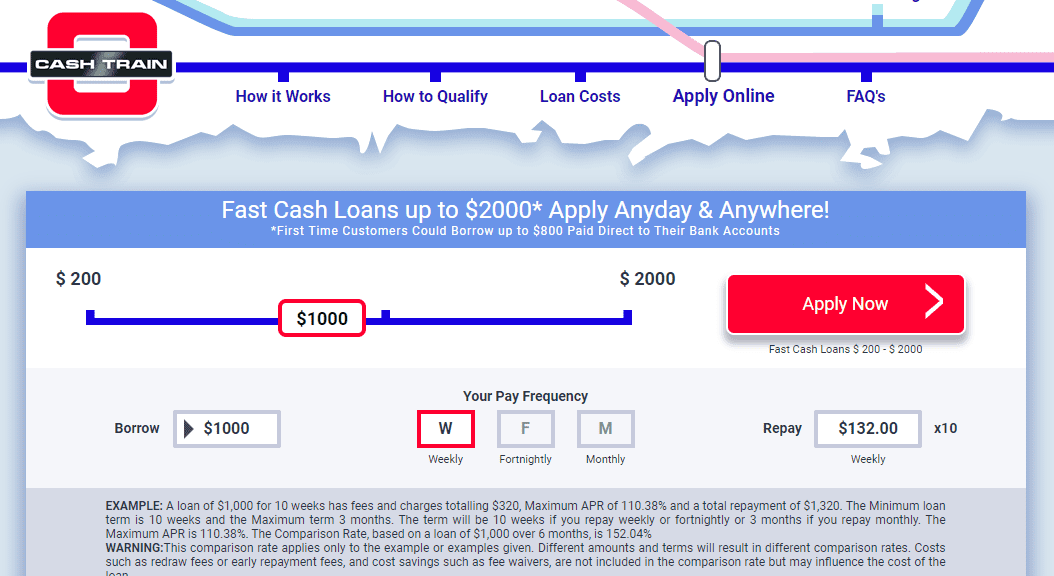 Then, click on the Apply Now button and proceed to the application form.
Step 2 – Filling out and submitting the online application form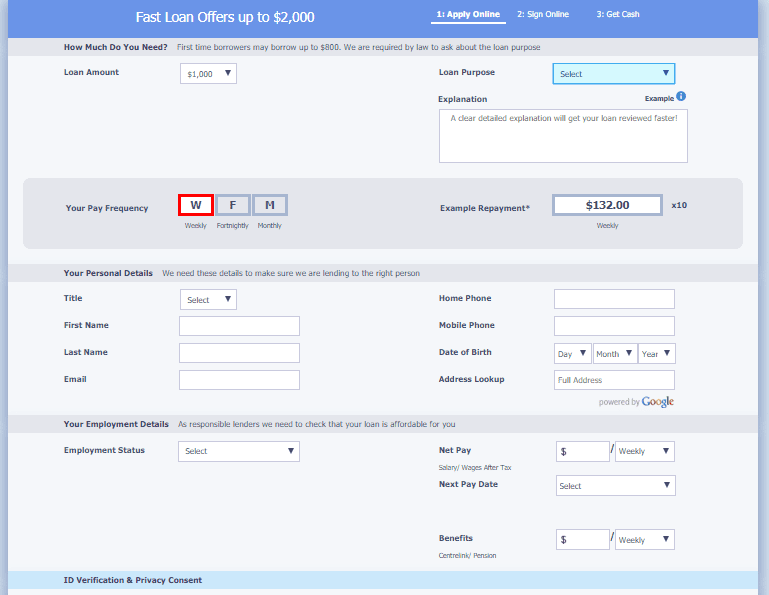 The online application form, as shown above, is one page long and asks for basic details such as the purpose of the loan, the borrower's personal details including name, email address, phone numbers, date of birth, and address. Then, the form also requires details pertaining to the borrower's employment, including net pay, next date of payment, and the amount received in benefits.
Applicants also need to submit their bank statements. This can be done either through Proviso or over a secure link delivered by Cash Train on the applicant's email.
Step 3 – Getting approved and receiving the funds
Once an application has been submitted online with complete information and an electronic signature, Cash Train will evaluate it according to its eligibility and affordability criteria and give an approval decision. Some applicants may receive an offer within minutes, on condition that the information they have provided in the form matches the information received directly by Cash Train from third parties during verification.
As soon as Cash Train approves a loan application, it releases the loan amount to the borrower's bank account within 1 business day. However, it may take longer for the funds to reach your account, considering delays caused by banking channel procedures.