Swift Loans is an online loans provider in Australia offering loan amounts between $300-$4,500 for a loan term of between 10-52 weeks, in partnership with its sister concern Oz Cash Loans. The lender operates completely online and has a fast loan delivery process, and application forms can be submitted 24/7. The lender uses a direct debit facility to claim repayments against the outstanding loan amount, until the entire loan obligation is repaid. Repayments are scheduled as per the borrower's payday. The borrowed loan amount can be used to pay for any personal expenditure, including medical expenses, traveling, and repairs, to name a few.
Types of loans
Swift Loans provides online cash loans between the amount of $300-$4,500.
Small Loans, under $2,000
Medium Loans, between $2,001 and $4,500
Eligibility Criteria
To qualify for a Swift Loan, borrowers must:
Be over the age of 18
Be a resident of Australia
Have a regular income stream
Pros & Cons
Pros:
Completely online loan application process
Quick loan amount disbursement once loan is approved
Might approve applications from borrowers with a bad credit history
Allows early repayment without any additional fees
Cons:
Does not operate branches for in-person loan application process
Borrowing costs of Swift Loans loans
If the borrowed amount is under $2,000, the lender charges 40% establishment fee and 4% monthly fee, while amounts between $2,001 to $4,500 are charged a fixed establishment fee of up to $400 and an APR of 35%.
| | | | | |
| --- | --- | --- | --- | --- |
| Loan Type | Loan Amount | Loan Term | Total Repayment | Total Borrowing Cost |
| Small Loan | $1,000 | 16 Weeks | $1,360 | $360 |
| Small Loan | $1,500 | 20 Weeks | $2,100 | $600 |
| Medium Loan | $2,500 | 26 Fortnights | $3,561.28 | $1,061.28 |
Information Required To Apply
The following information is required to apply for a Swift Loan:
Details pertaining to internet banking
An Australian driver's license or any ID that proves your age
Loan purpose
Details about income and expenses
How To Apply
Step 1 – Fill out the online application form
Log on to swiftloans.com.au, select your desired loan amount by dragging the slider, and click Apply Now.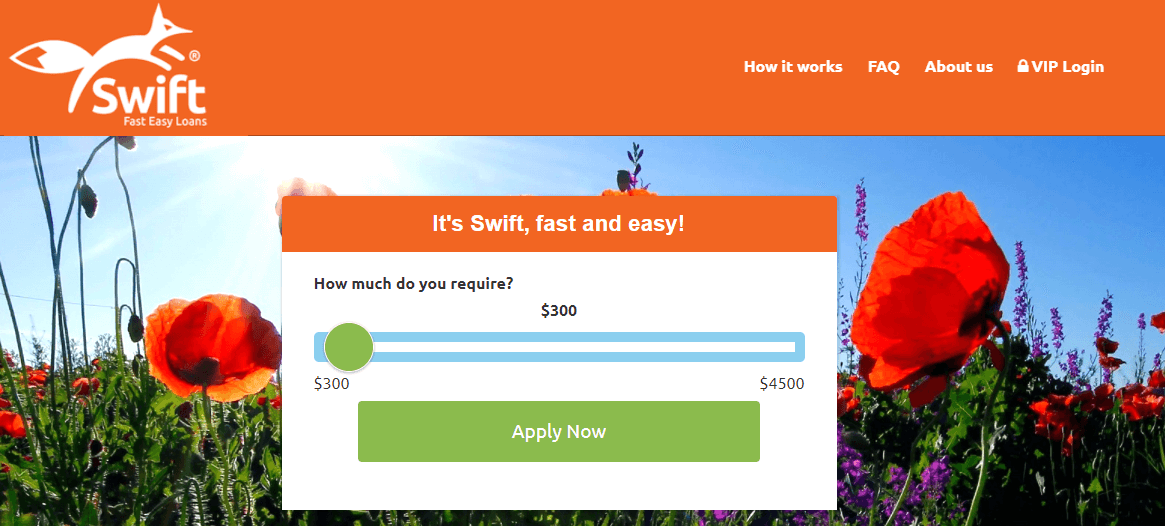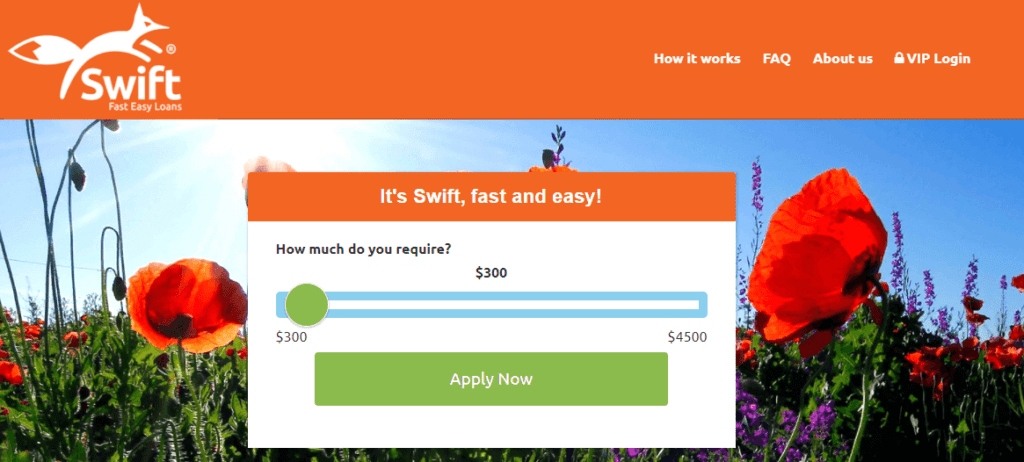 Fill out the application form as accurately as possible by providing all required information. Once the form is complete, submit it for review.
Step 2 – Application review
Swift Loans will review the information you've provided, and verify all income and expenditure information by checking your latest 90-day bank statements. If approved, the lender will reach out with a loan offer that you must accept for the funds to be disbursed.
Step 3 – Disbursement
Once the loan offer has been signed and received by the lender, the loan amount is disbursed in under an hour of receiving the signed loan offer.
FAQs
What is the maximum amount I can borrow through Swift Loans?
Swift Loans offers a maximum loan amount of $4,500.
Does Swift Loans offer same day loans?
Yes, provided the signed loan offer is sent back to the lender before a specific time.
Does Swift Loans accept applicants with a bad credit score?
Yes, each application is reviewed on its individual merits.
Does Swift Loans allow early repayments?
Yes, without penalties.
How do I make repayments on a Swift Loans loan?
Repayments are made automatically through the direct debit facility that is set according to your pay cycle.
Lenders Like Swift Loans
| | |
| --- | --- |
| Lender | Description |
| Nimble Loans | Nimble ‌offers‌ ‌various‌ ‌loan‌ ‌types,‌ ‌including‌ ‌cash‌ ‌loans,‌ ‌personal‌ ‌loans,‌ ‌and‌ ‌car‌ ‌loans.‌ ‌All‌ ‌loan‌ ‌types‌ ‌offer‌ ‌a‌ ‌distinct‌ ‌loan‌ ‌amount‌ ‌and‌ ‌loan‌ ‌term‌ ‌limits,‌ ‌depending‌ ‌upon‌ ‌the‌ ‌borrower's‌ ‌needs‌ ‌and‌ ‌affordability.‌ |
| Paypal Loans | Paypal is providing two loan types in Australia, including a working capital loan facility for small businesses and a Pay After Delivery consumer finance service. Under the working capital loan service, sellers can borrow as much as 25% of their previous year's revenue to finance their business, as long as this amount is under $97,000. |
| Pepper Loans | Pepper‌ ‌is‌ ‌a‌ ‌loan‌ ‌provider‌ ‌in‌ ‌Australia‌ ‌that‌ ‌offers‌ ‌home‌ ‌loans‌ ‌and‌ ‌personal‌ ‌loans.‌ ‌Borrowers‌ ‌can‌ ‌take‌ ‌out‌ ‌personal‌ ‌loans‌ ‌between‌ ‌the‌ ‌amount‌ ‌of‌ ‌$5,000-$40,000,‌ ‌while‌ ‌home‌ ‌loans‌ ‌are‌ ‌available‌ ‌depending‌ ‌upon‌ ‌the‌ ‌affordability‌ ‌and‌ ‌need‌ ‌of‌ ‌the‌ ‌borrower.‌ |
| Fair Go Finance | Fair‌ ‌Go‌ ‌Finance‌ ‌is‌ ‌a‌ ‌personal‌ ‌loan‌ ‌provider‌ ‌operating‌ ‌in‌ ‌Australia‌ ‌with‌ ‌loans‌ ‌available‌ ‌between‌ ‌the‌ ‌amount‌ ‌of‌ ‌$500-$10,000‌ ‌for‌ ‌a‌ ‌term‌ ‌spanning‌ ‌3-36‌ ‌months. |
Promo Codes
No promo codes are available for Swift Loans at this time.