Nimble started operations in 2005, although it was originally called Cash Doctors. The lender offers various loan types, including cash loans, personal loans, and car loans. All loan types offer a distinct loan amount and loan term limits, depending upon the borrower's needs and affordability.
How Much Does A Nimble Loan Cost?
Nimble applies different loan costs on different loan types.
Small Cash Loans
The establishment fee on a small cash loan is charged at 20% of the total loan. Additionally, the lender charges 4% as monthly fees.
Medium Cash Loans
A medium cash loan has an establishment fee of $400. The applicable rate is 47.62% per year, with a 65.66% per year comparison rate.
Personal Loans
Personal loans are charged an establishment fee of $195 for loan amounts between $5,000-$10,000, and $250 for between $11,000-$25,000. The interest rate charged varies between 8.99%-29.99% per year, amounting to a comparison rate of 10.31%-31.49% per year.
Car Loans
The application fee is $195 for car loans of amounts between $5,000-$10,000, $250 for amounts between $10,001-$20,000, and $495 for amounts between $20,001-$50,000. The applicable interest rate is 6.99%-27.99% per year, and the comparison rate is 7.68%-28.84% per year.
Other charges applied by Nimble on their cash loans are as follows:
Dishonor fee: $15
A dishonor fee is applied if the lender does not receive full timely payment.
Default fee: $5/day
Reschedule fee (not applicable on small loans): $15
A reschedule fee will be charged by Nimble every time a request to reschedule is made by the borrower.
Other charges applicable to personal loans and car loans are as follows:
Late payment fee: $20
Borrowers would be charged if payment is not received in 5 days after the due date has elapsed, and then every 30 days thereafter until the entire loan amount has been repaid.
Dishonor fee: $5
Variation fee: $50
Any variations requested in a loan would be charged this fee.
Early repayment fee: $100
This is applied if a loan term exceeding 2 years but the entire loan amount is repaid within 2 years.
Duplicate fee: $5/document
Key Features Of Nimble Loans
The three major loan types offered by Nimble all share unique key features.
Cash Loans
The following features pertain to the cash loans being offered by Nimble.
Available cash loan amounts of $300-$5,000 are available. Small loans vary between £300-$2,000, while medium loans are available between $2,050-$5,000 loan amounts.
The available loan terms start from 62 days and go up to 3 months for small loans and up to 22 months for medium loans.
Fast approvals are available for cash loans being offered by Nimble, and loan amounts are disbursed quickly as well. According to the lender, applicants can expect to receive the loan amount within 60 minutes of being approved, provided approval is given before 4:30 PM on a day when banks are open.
Personal Loans
The following features are being offered by Nimble with personal loans:
Loan amounts are available between $5,000-$25,000.
The available loan term ranges between 6-48 months.
The lender claims to disburse funds within 60 minutes after a loan application has been approved.
Car Loans
Nimble car loans share the following features:
Car loans are available between the amounts of $5,000-$50,000.
The available loan term is between 12-84 months.
Loans are funded by Nimble in under 60 minutes after being approved, provided it is processed quickly by banks.
FAQs
How much can I borrow through Nimble?
Nimble offers cash loans of up to $5,000, personal loans up to $25,000, and car loans up to $50,000.
How fast can I get a loan from Nimble?
Nimble typically disburses loan amounts within an hour of approval, although it may take longer to reach depending upon the banking channels.
Can I apply for a Nimble loan if I have a bad credit score?
In some cases, Nimble may accept loan applicants who have a bad credit history provided they meet all of the lender's criteria.
Are Nimble car loans secured?
Yes, Nimble offers car loans that are secured against the vehicle which is purchased with the loan funds. The ownership of the car is transferred after the entire loan amount has been repaid.
Eligibility Criteria
Nimble requires that all of its loan applicants fulfill the following criteria. Applicant's must:
Be a citizen or permanent resident of Australia
Be over the age of 18
Must have employment with more than $50,000 per year in pre-tax income (minimum income requirement only for personal and car loans).
Must not have been bankrupt in the 5 years prior to filing the loan application (only in case of personal and car loans).
Additional eligibility criteria may apply to specific applicants, including those who are dependent on Centrelink benefits or have a poor credit history. Those with other outstanding debt obligations, such as mortgage and other personal loans, may also need to prove affordability by showing sufficient regular income.
Customer Support
Nimble provides multiple ways that customers can reach out for support. An online contact form is available on the nimble website. In case customers have an urgent query, then they can call at 133 156 from 7 AM-7 PM AEST Monday to Friday, and 9 AM-5 PM on Saturday.
Customers can also send an email at [email protected] to voice any complaints. In case customers are calling from an international location, then they can dial +61 7 5612 7200.
Application Process
To apply for a Nimble loan, simply follow these steps.
Step 1 – Submit the online application form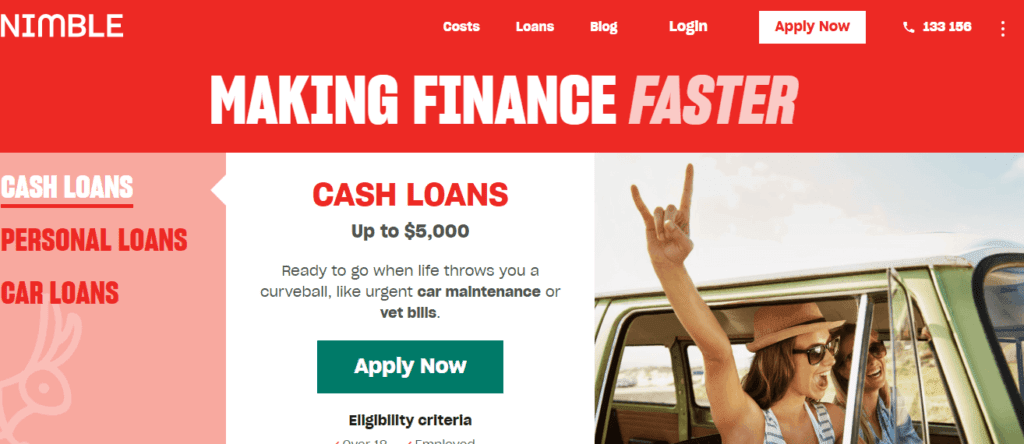 The online application form can be found on the Nimble website. Applicants need to visit nimble.com.au and click on the Apply Now button on the top right, as shown in the image below. However, make sure the correct option is selected as displayed on the left-hand side of the screen. For example, if you wish to request a cash loan, then select Cash Loans (as shown) and then click on the Apply Now button.
Each application form is specifically designed to seek input for the loan type that is initially selected. For example, the application form for a personal loan will begin as presented below.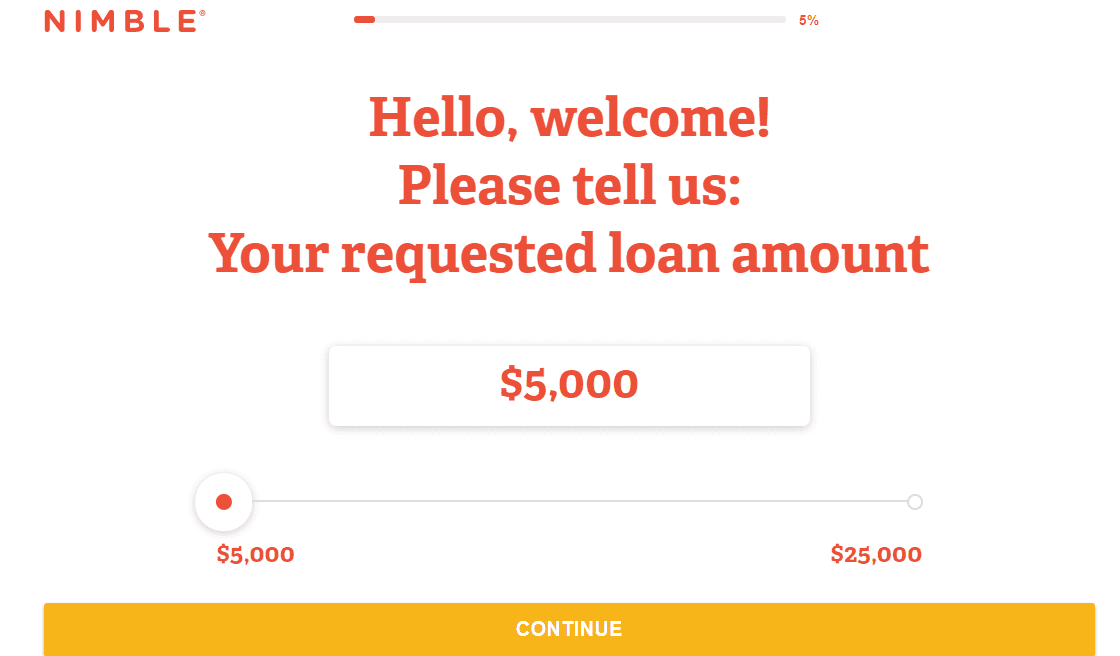 These loan amounts are specific to personal loans, whereby the cash and car loan screens would display a different minimum and maximum loan amount.
The application form will ask for information in a sequence, starting with the amount that the applicant needs as a loan. Simply drag the slider to the required amount and click continue. Complete the form by providing all the necessary information, and then submit it for evaluation.
Step 2 – Application Evaluation & Loan Disbursement
Applications are evaluated against Nimble's eligibility and affordability criteria, and applicants are informed about the decision by the company. If an application has been accepted, funds are disbursed within an hour, in most cases.