Ferratum is a short-term loan provider in Australia that provides loans between amounts of $500-$1,900 for a loan term of 30 days to 12 months. It is part of the Ferratum Group which operates in 25 countries around the world.
How Much Does A Ferratum Loan Cost?
Regardless of the loan amount that is taken out, Ferratum charges a fixed 20% origination fee on its loans and then a monthly fee of 4%, the maximum that is allowed by Australian law for loans under $2,000.
The following table illustrates the amounts that borrowers can expect to repay in total.
| | | | |
| --- | --- | --- | --- |
| Loan Type | Loan Amount | Repayment Period | Total Repayment |
| Plus Loan Lite | $500 | 5 Months | $700 |
| Plus Loan Lite | $1,000 | 5 Months | $1,400 |
| Plus Loan Lite | $1,500 | 6 Months | $2,160 |
| Plus Loan Lite | $1,900 | 6 Months | $2,660 |
Additional fees are applied by Ferratum in case the borrower defaults on a loan or requests for payments to be rescheduled. These fees are as follows:
Dishonor fee: $55
Missed payment: $55
Collection transfer: $47
Notice of default: $10/notice
Fee for management of debt: $50
Key Features
Ferratum loans share the following key features:
Loans can be sought between the amounts of $500-$1,900, depending upon the history of the borrower with the lender.
Loans are given with a term that can be between 3-12 months long.
These are short term loans.
The application process is completely online and borrowers can maintain their account via the lender's online portal.
An applicant's credit history is not considered while evaluating the loan application.
Approved loans are deposited directly into the borrower's designated bank account.
Pros and Cons
The following pros pertain to the services being offered by Ferratum:
A fast & completely online application process with 24/7 availability
Quick turnaround time
Accepts applicants with a bad credit rating
The lender charges a fixed rate
Ferratum short term loans have the following cons:
The lender is charging the maximum rate allowed under Australian law.
FAQs
How can I make repayments on a Ferratum loan?
Ferratum gives a payment plan to its borrowers based upon their desired payday and a direct debit is set up so that payments are automatically deducted from the borrower's bank account.
Why are 3-month bank statements required?
Bank statements of the prior 3 months are required as they provide insight into the applicant's recent financial condition. This is how Ferratum is able to approve loans without conducting any credit checks.
Does Ferratum provide loans to those with a bad credit score?
Yes, Ferratum does not consider an applicant's credit score. Instead, their recent financial history is considered to assess affordability.
How quickly can I expect to receive the loan amount?
Ferratum can release payment within a few minutes of approving a loan, however, it might only be processed by the bank during banking hours i.e. 9 AM to 5 PM AEST.
Can I take out more than 1 loan from Ferratum at the same time?
No, Ferratum only allows applicants to have one outstanding loan at a time.
Eligibility Criteria
To apply for a Ferratum loan, applicants need to fulfill the following eligibility criteria. Applicant's must:
Be over the age of 18
Hold Australian citizenship or permanent residency
Have a regular income that is sufficient to comfortably make loan repayments after deducting for all regular expenses
Have a valid mobile number and email address.
Customer Support
Ferratum has long operating hours between 6 AM – 10 PM Australian Eastern Time from Monday to Friday, although on Saturday and Sunday it operates between 9 AM to 6 PM only.
In case customers have any general inquiries, they may reach out to a Ferratum representative at 1300 433 772 or send an email at [email protected].
The collections team can be approached by phone at the same number, or customers can send an email at [email protected].
In case there are any complaints, customers can either call at 02 6145 0126 or send an email at [email protected].
Application Process
The application process being used by Ferratum is completely online, and hence it does away with the need to file any physical documentation. This enables the lender to operate 24/7, as all required checks are automatic and require little to no human intervention. Borrowers can apply for a loan with Ferratum any time of the day, any day of the week, and expect to receive a response within minutes. To apply, you need to follow these steps.
Step 1 – Accessing the online application form
Log on to ferratum.com.au and click on the Apply Now button as displayed on the top right corner of the screen. This will open the application form and the following window would be displayed.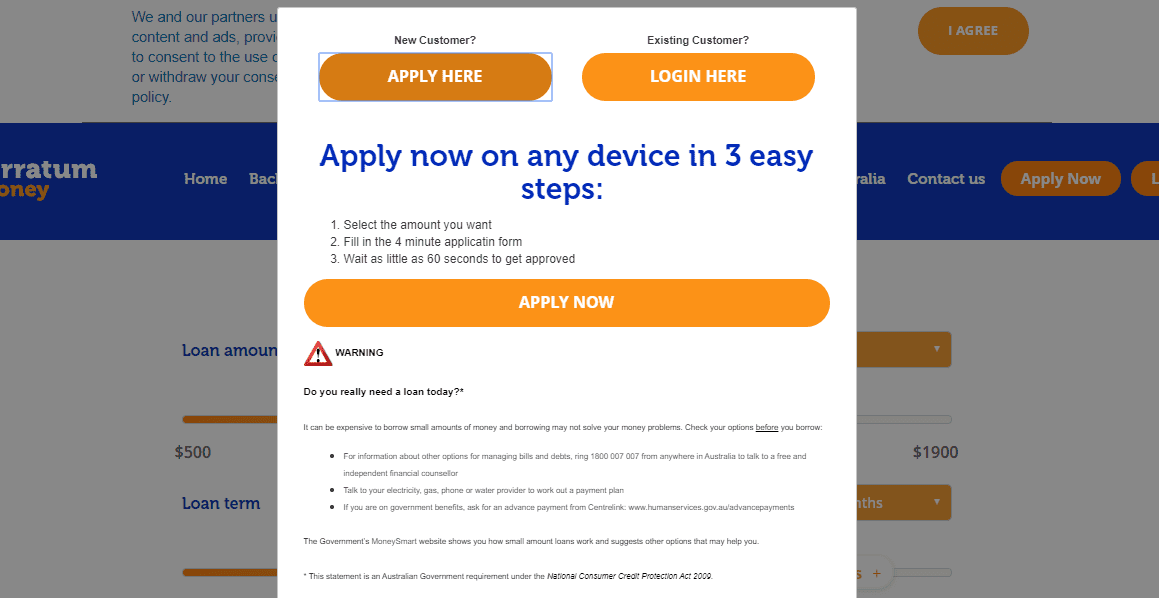 Select the most appropriate option. New customers are taken to the form while existing customers are asked to login as they might only be required to update their information.
Step 2 – Filling out the application form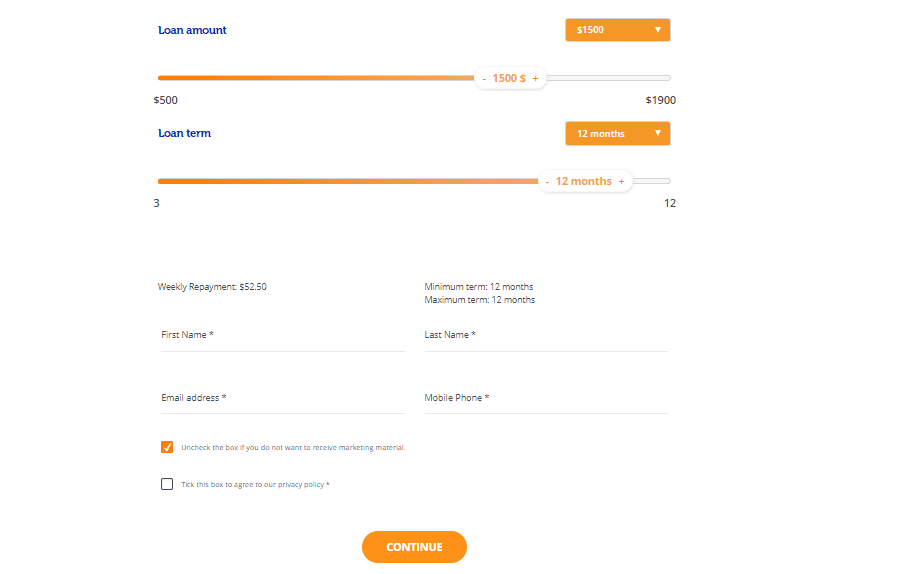 The application form, as displayed above, is very simple and will take approximately four minutes to be filled out. Borrowers need to provide all the required information as accurately as possible. To ensure you have all the required information, keep your bank statements for the prior 3 months, details about your expenses, and ID information on hand as the form may require these to be submitted. Once the entire form has been filled out, borrowers need to submit it.
Step 3 – Receiving the funds
Once the application form has been submitted, applicants should receive a decision within a few minutes. The loan amount is disbursed automatically if approval has been given, although it may take some time for the funds to show up in the bank account due to procedural delays in the banking system.
Conclusion
Ferratum short-term loans offer a fast solution to Australians looking for a quick source of funds to pay for urgent expenses, such as car maintenance or to cover some bills. However, they are expensive and should be sought only when alternative solutions, such as asking friends and family for a loan, have been exhausted.