About Wallet Wizard
Wallet Wizard is a loan provider in Australia with loans between the range of $500-$5,000. The repayment term is flexible, as the lender's Smart Loan product is actually a line of credit. This means borrowers are approved for a maximum credit limit, and they can withdraw funds to the required extent. The company behind the lender is called Credit Corp Financial Services.
How Much Does A Wallet Wizard Loan Cost?
Wallet Wizard charges an APR of 47.8%. A late fee of $10 is charged in case a direct debit request is reversed.
Apart from these costs, the lender does not charge any other fees to its borrowers.
The total cost charged to the borrower depends upon two factors: the amount borrowed, and the repayment term. Borrowers can choose to make weekly, fortnightly, or monthly repayments. However, both of these factors do not have a major impact on the cost.
The following table illustrates the costs that a borrower would have to bear if they decide to take out a Wallet Wizard smart loan.
| | | | |
| --- | --- | --- | --- |
| Loan Type | Loan Amount | Payment Frequency | Payment |
| Smart Loan | $1,000 | Weekly | $34.14 per week |
| Smart Loan | $1,000 | Monthly | $146.93 per month |
| Smart Loan | $3,000 | Monthly | $253.76 per month |
| Smart Loan | $5,000 | Monthly | $310.10 per month |
These payments include the APR charged by the lender. Repayments need to be made until the entire outstanding loan balance has been paid off.
Key Features
A Smart Loan from Wallet Wizard has the following characteristics:
Available loan limit ranges between $500-$5,000.
The loan term is flexible, as borrowers have the ability to borrow again from the approved credit limit.
Borrowers need to make minimum repayments on a weekly, fortnightly, or monthly basis, depending on when they receive their regular income. This does not have much impact on the total cost that borrowers bear on a borrowed amount.
Borrowers are only charged on the amount that remains outstanding.
The lender allows early repayments with no extra fees.
Pros and Cons
Borrowing from Wallet Wizard has the following pros:
Fast application process requiring only a few minutes to complete
The lender offers lengthy loan repayment terms, making it easier for the borrower to afford loan repayments when they become due.
Borrowers can take out loans as small as $500.
In case a borrower wishes to redraw from the loan, they can do so without requiring any additional approvals (up to the approved credit limit).
The services being provided by Wallet Wizard have the following cons:
An APR of 47.8% is charged on all Wallet Wizard loans, which makes the loan service quite expensive.
FAQs
How long does Wallet Wizard take to approve a loan application?
Approval on a loan application may be given within one business day as the entire process is online.
Does Wallet Wizard perform credit checks?
Yes, Wallet Wizard does perform credit checks on every application to ensure the borrower has a healthy credit history.
What are the charges if a borrower makes early repayments to Wallet Wizard?
The lender does not have any charges and allows borrowers to make early repayments on its loans free of cost.
What is the maximum loan repayment term allowed by Wallet Wizard on a single loan?
Wallet Wizard would specify the maximum loan term in the loan contract, although the loan term is usually up to 2 years.
Eligibility Criteria
Wallet Wizard has one of the easiest eligibility criteria in the industry. The lender welcomes anyone to apply, as it even considers applicants who would likely be rejected by most lenders operating in Australia.
To be eligible for a Wallet Wizard Smart Loan, applicants must:
Be over the age of 18
Be a permanent resident or citizen of Australia
Have regular income (Centrelink income may also be accepted)
Those who are currently bankrupt or have been discharged from bankruptcy in the past may also qualify.
Customer Support
Wallet Wizard offers customer support through multiple channels. Customers can go on their website and fill out the feedback form available there. Also, they can share their feedback by sending an email at [email protected] or [email protected]. The lender can also be reached via phone call by dialing 1300 925 538 during office hours.
Application Process
The application process to apply for a credit line (called a Smart Loan) is split across three steps.
Step 1 – Submitting the online application form
Applicants can find the online application form on the lender's website by clicking on the Apply Now button as shown on the top-right corner in the image below.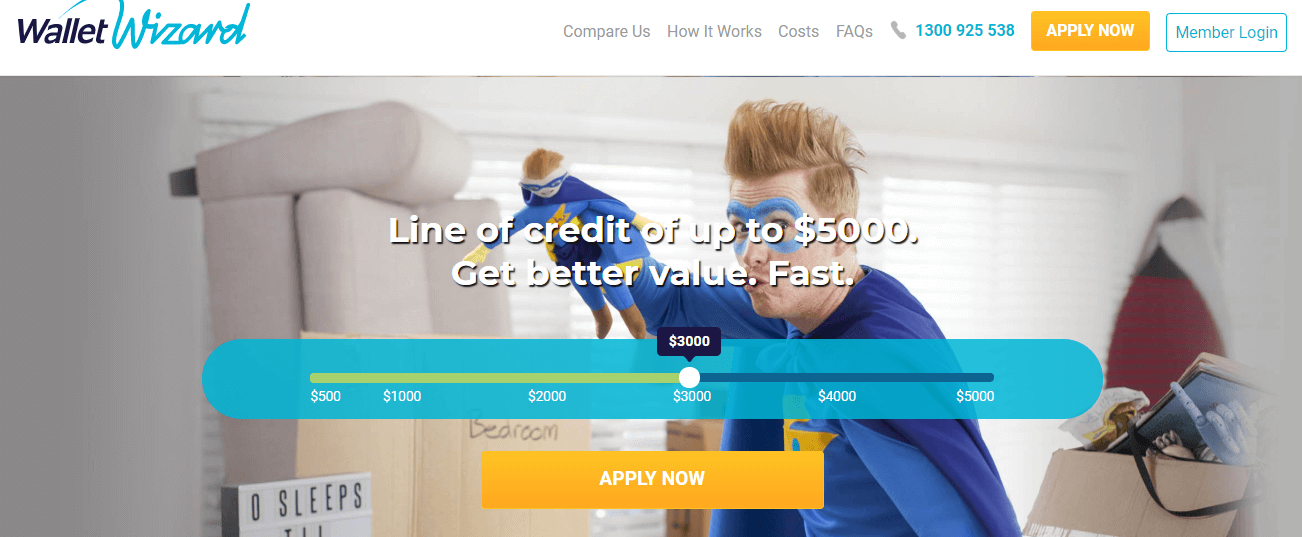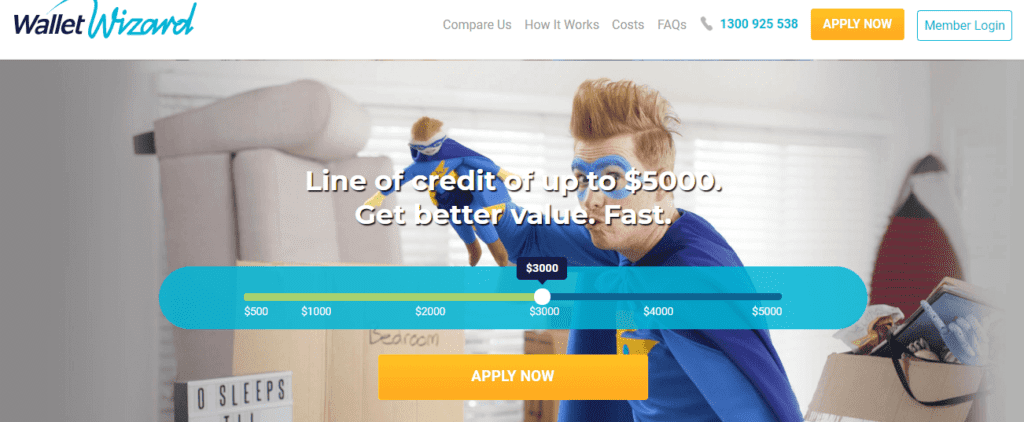 Returning customers can simply log in to their account and apply for a new credit line. The lender will use updated information pertaining to existing customers while processing the application for a new credit line.
New customers need to fill out an online application form that requires your full name, date of birth, contact information including phone number and email address, physical address, number of years spent at current address, gender, and residency status. Customers also need to provide 2 ID documents, and employment details including employment status, employer name, employer contact information, and starting date of current employment.
Applicants will also be asked about marital status, the number of dependents in the household, income information including amount and pay frequency for both regular income as well as government benefits. Expense information including house expenses, number of credit cards including their total limits, and total monthly loan repayments, also needs to be stated. The lender also requires applicants to provide their bank account information where the loan amount would be disbursed, as and when requested by the borrower.
Once all of the above-mentioned information has been stated, applicants need to submit the application and wait for it to be processed.
Step 2 – Waiting for the application to be processed
Wallet Wizard will verify all of the information stated in the application form and assess whether the applicant qualifies for the required credit limit. If the lender approves the loan application, it will provide the applicant with a loan agreement. Applicants need to carefully evaluate this loan agreement before accepting it to ensure they agree with all terms and conditions, as laid out by the lender, and are able to afford the loan repayments as they become due.
Step 3 – Getting approved for an ongoing credit line
If an applicant submits their acceptance to a loan contract before 2:30 PM Sydney time, they may be able to access the loan funds within an hour of submitting the signed loan contract (if its a business day). Loan contracts signed and submitted after this time would have their funds released on the next business day.