Symple Loans is a personal loan provider operating in Australia, providing personal loans of up to $50,000 with a loan term of up to 7 years. The lender acts as a trustee for The Alpha Fund, and holds both the Australian Credit License as well as the Australian Financial Services License. Borrowers can secure a loan through Symple Loans to cover any personal expenses. Loans are funded by private Australian investors through the digital marketplace provided by Symple Loans.
Key Features
Symple Loans provides personal loans that have the following key features:
Loans are available with amounts between $5,000-$50,000.
The lender allows a loan term of between 1-7 years on its personal loans.
Loans taken out from Symple Loans can be used to cover any personal expenses, including car repairs, home renovations, payment of medical expenses, going on a holiday, paying off other debt, and vehicle purchase, to name a few.
The total application process takes about 7 minutes to complete.
The lender claims to respond within 60 seconds of filing a loan application.
Funds are transferred within 24 hours of approval to the borrower's bank account
Loans are funded by private Australian investors in a digital marketplace.
How Much Does A Loan From Symple Loans Cost?
Symple Loans charges an interest rate between 5.75% to 19.99% per annum (a comparison rate of 6.89%-23.07% per annum). This comparison rate has been calculated on a loan amount of $30,000 taken out over a 5-year loan term. Other charges may apply on top of this comparison rate.
The lender also charges a loan establishment fee that can range between 1%-5% of the original loan amount and an administration fee of $10 for every month that a loan remains outstanding.
The lender does not charge any early repayment fees, hence borrowers may choose to repay their outstanding loan balances early without incurring any extra costs.
The interest rate that is actually applied on a loan is personalized according to the individual characteristics of every loan application.
The following table illustrates the approximate costs borrowers can expect to pay on a loan taken out from Symple Loans.
| | | | |
| --- | --- | --- | --- |
| Loan Amount | Loan Term | Interest Rate | Total Repaid |
| $30,000 | 5 years | 13.99% | $44,148 |
| $15,000 | 5 years | 13.99% | $21,841 |
| $45,000 | 7 years | 6.89% | $58,225.30 |
| $5,000 | 1 year | 6.89% | $5,344.50 |
Pros and Cons
Taking out a loan from Symple Loans has the following pros for the borrower:
There are no early repayment fees
A simple and fast online application process
Quick application processing times
Loans are available for up to $50,000
Low rates. Borrowers are quoted a personalized rate based upon their creditworthiness. Those with a good credit score can end up paying interest rates as low as 5.75% per year (comparison rate of as low as 6.89% per year).
Always open and accepting loan applications due to a 100% online system.
The followings cons may originate from the services being provided by Symple Loans:
Applicants find out about the indicative rate they will likely have to pay on their loan only after the initial online form has been filed.
FAQs
Can I apply for a Symple Loan if I am self-employed?
Yes, but you must have a trading record of at least 2 years and will also need to submit your tax returns for the previous financial year including the notice of assessment, in addition to fulfilling the other eligibility criteria.
Does Symple Loans conduct a credit check?
Yes, Symple Loans will conduct a credit check to verify your credit score. The lender basis the interest rate it offers to borrowers mainly on the borrower's credit history, among other factors. This credit check will remain on your credit file.
Why did Symple Loans not provide me an indicative rate after I submitted the online form?
If the lender does not provide you an estimated rate after you have submitted the online form, this likely means you did not qualify for its personal loan.
Does Symple Loans accept applicants with a bad credit score?
Those with a below-average credit score may qualify for a personal loan with Symple Loans, however, they will pay a higher interest rate on their loan compared to those with a better credit rating.
Eligibility Criteria
Symple Loans specifies the following eligibility criteria to qualify for its personal loan. Applicants must:
Be over the age of 18 years
Have employment with an income exceeding $25,000 per annum
Be a permanent resident or a citizen of Australia
Not have any record of a bankruptcy filing.
Customer Support
Symple Loans has an in-house customer services team that is available to address any customer concerns. Customers may reach a company representative over the phone by dialing 1300 330 295 between 9 AM – 5 PM on weekdays. You can also request for assistance by sending a text message at 0488 844 299, or an email at [email protected].
The lender also provides an online contact form that can be submitted to request assistance. This form can be found at their website.
Application Process
To apply for a loan with Symple Loans, applicants must follow these steps.
Step 1 – Find out your rate
Before you file your online application, you have to get your rate by filling out a short form available on the lender's website. This form can be accessed by visiting their website and clicking on the Get My Rate button as shown in the right-hand corner of the screen (as shown in the image below).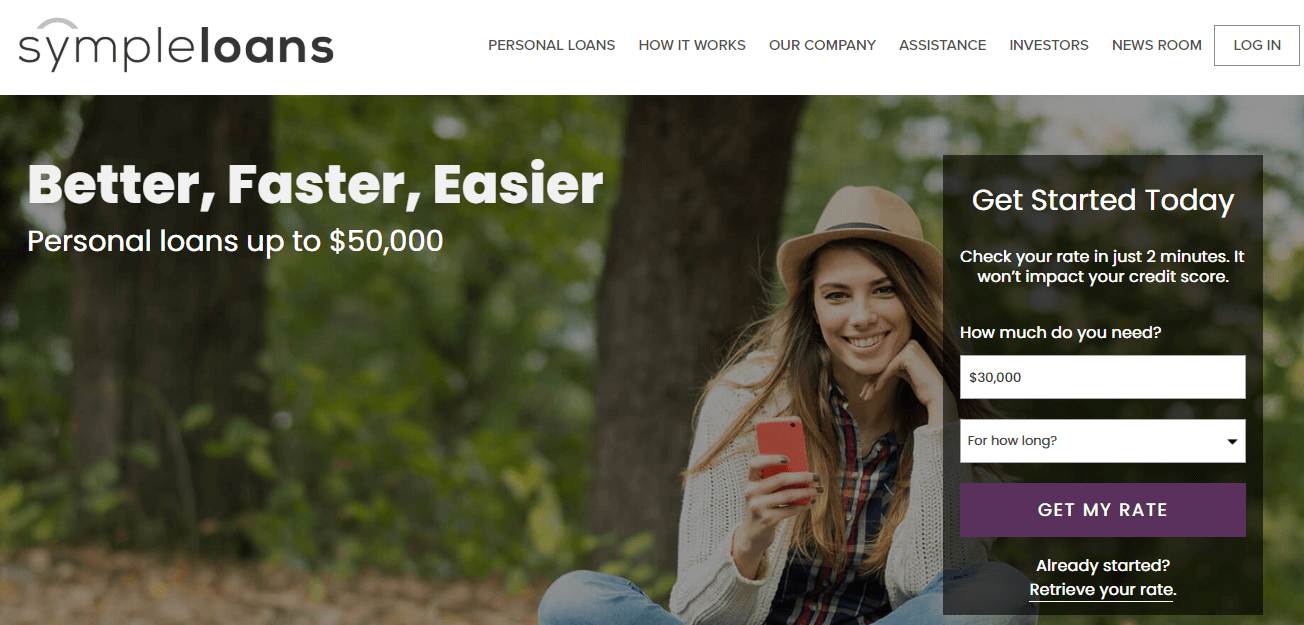 After filling out the short form that is displayed, click on the Get My Rate button again, displayed at the very end of the form. The lender will check your credit score through a Credit Reporting Body and then provide you with an indicative rate that you can expect to pay on your loan. Don't worry, this check will not have any impact on your existing credit score.
Step 2 – File the online application form
After you have your personalized indicative rate, it is time to submit the online application form. Make sure you have all your personal information ready, including details pertaining to your finances. You will also need to submit your bank statements electronically, so make sure you have your Internet Banking Credentials handy.
This step should take about 7 minutes to complete. The lender usually provides a response to an application within 60 seconds.
Step 3 – Receive your funds
If the lender approves your loan application, it will disburse your loan funds within the next 24 hours. These funds should reach your account in approx. 1-3 business days, depending upon the processing time taken by the banking channel.