About Speckle
Speckle is a small loan provider in Australia offering loans between $200-$2,000 with loan terms spanning over 3-12 months. The lender was launched by Good Shepherd Microfinance with support from the National Australia Bank with the mission of easing the financial stress being experienced by millions of Australians through the provision of affordable loans.
Key Features
Speckle small loans can be used to pay for any personal expenditure, including car repairs, any emergency costs, electrical expenses, or back-to-school expenses, to name a few. However, borrowers cannot use these funds for business purposes, debt consolidation, or refinancing other debt obligations.
The lender provides small loans with the following key features:
The available loan amounts are between $200-$2,000,
The lender allows loan terms of 3-12 months.
No early repayment charges are applied on the loans, allowing borrowers to have flexible repayment terms.
Approval decisions on loans are given within two hours.
Funds are disbursed within one business day after approval has been given.
How Much Does A Speckle Loan Cost?
Speckle charges a fixed 10% establishment fee on all originating loans. A monthly fee of 2% on the initial loan amount is also charged until the loan is fully repaid.
Other fees charged by the lender include a dishonor fee of $5 for every repayment that is dishonored. In case a borrower fails to make a due repayment for more than 30 days, the lender charges a daily fee of $1.
The following table illustrates the total cost that borrowers can expect to pay if they take out a loan with Speckle.
| | | | |
| --- | --- | --- | --- |
| Loan Type | Loan Amount | Loan Term | Total Repaid |
| Small Loan | $500 | 6 Months | $610 |
| Small Loan | $1,000 | 6 Months | $1,220 |
| Small Loan | $1,500 | 12 Months | $2,010 |
| Small Loan | $2,000 | 12 Months | $2,680 |
Speckle is operated by a not-for-profit entity, hence all revenue is plugged back to fund the lender's operations and keep borrowing costs low for customers.
Pros and Cons
The following pros pertain to the services being provided by Speckle:
Borrowing costs are very low compared to many other small loan providers
There are no early repayment fees
Allows borrowers to work out alternative arrangements if repayments become difficult
Fast loan processing times
Allows loans of up to $2,000 with loan terms between 3-12 months
Customers can repay in weekly, fortnightly, or monthly payments.
It offers budgeting advice and counseling services to its customers as well.
Borrowing from Speckle has the following cons:
It does not accept applicants who rely solely on Centrelink payments for income.
FAQs
Can I apply for a Speckle loan if I am a self-funded retiree?
Yes, however, you still have to meet the eligibility criteria as set by the lender.
Does Speckle accept applicants who have a bad credit score?
Speckle may be able to approve loans for those with a bad credit rating after ascertaining their ability to repay the loan.
Can I apply for another loan with Speckle with an existing loan?
No, Speckle requires its customers to clear any outstanding loans they have with the lender before applying for a new loan.
Does Speckle charge any fee if I make early repayments on a loan?
No, Speckle does not have any early repayment fees. Borrowers have the freedom to repay before the stipulated loan term due dates.
Eligibility Criteria
Applicants must fulfill the following eligibility criteria to apply for a Speckle small loan. Applicants must:
Have an annual pre-tax income of at least $22,000, and more than 50% of this income must come from sources other than government benefits.
Be over the age of 18
Be a citizen or a permanent resident of Australia and living in Australia
Provide valid contact details including an Australian mobile number and email address.
Customer Support
Speckle runs an extensive customer support platform. In case a borrower is struggling to make repayments on a loan or has any other feedback/query/concern, the lender has a dedicated team for customer care which can be reached on 13 43 23 or customers can also choose to use the LiveChat feature on its website (displayed on the bottom-right corner of the screen).
However, you can only reach the customer support team over the phone from 9 PM-5 PM AEST on Monday-Friday, although the live chat feature is available throughout the day. Feedback can also be emailed at [email protected], or through a form available on the lender's website. The lender has a timeframe of 21 days for the resolution of complaints.
Application Process
To apply for a small loan with Speckle, you need to follow these steps.
Step 1 – File the application
Applicants can apply for a Speckle loan online. Visit the lender's website and drag the bar on the center of your screen (as shown in the image below) until you reach the amount you wish to borrow. This tool displays the cost you should expect to bear for your stated amount, as well as the repayment amount you would need to pay on every due date.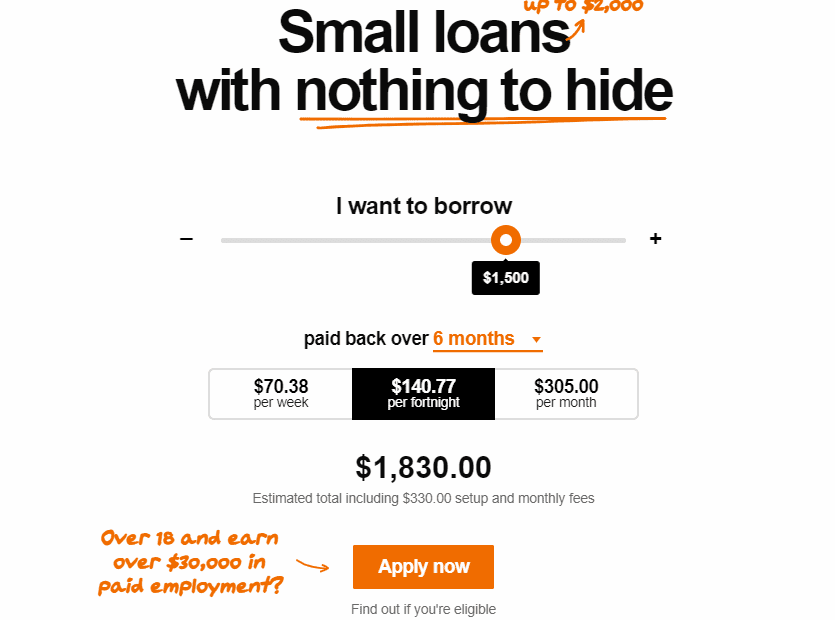 After reviewing all this information, including the total amount you will repay over the entire loan term, click on the Apply now button to proceed to the application form. After reading and accepting the warning statement, you should reach the online form that needs to be filled to file your loan application.

In addition to providing information pertaining to yourself, your income and expenses, applicants would also need to provide the following documents:
Provide valid ID information including driver's license, passport, etc.
Give electronic bank statements for the past 90 days.
Provide any other documentation as necessary.
Step 2 – Application assessment
Once the form has been completed and submitted along with all required documents, Speckle takes approximately 2 hours to conduct all necessary checks and assessments before approving a loan.
Step 3 – Disbursement of funds
Once a loan application has been approved, Speckle disburses the loan funds into the borrower's bank account within one business day. Repayments are scheduled on a weekly, fortnightly, or monthly basis, and deducted automatically from the borrower's bank account through the Direct Debit facility.