About OurMoneyMarket
OurMoneyMarket is an unsecured personal loan provider in Australia offering loan amounts between $5,000-$35,000 for a loan term of 3, 5, and 7 years. The lender basis its loan costs primarily on the borrower's credit rating, offering cheaper loans to those with acceptable credit history. OurMoneyMarket loans are funded by individual investors through an online loan marketplace, as the lender also provides an investment opportunity to Australians.
Key Features
The unsecured personal loan being offered by OurMoneyMarket has the following key features:
A personal loan can be taken out for an amount between $5,000-$35,000.
The loan term can be 3, 5, or 7 years long.
The loan application process is completely online.
Repayments can be made on a weekly, fortnightly, or monthly basis.
The interest rate applicable on a loan is primarily based on the borrower's credit score.
Loans can be used to cover personal expenses including debt consolidation, for the purchase of a car, to go on a holiday, to renovate a home, among other similar expenses.
How Much Does An OurMoneyMarket Loan Cost?
OurMoneyMarket charges an interest rate on a personal loan based upon the borrower's credit score and other unique circumstances, both of which determine the borrower's loan grade. Customers can find out their personalized interest rate by filling out the Quick Rate Quote form available on the lender's website.
The following table illustrates the interest rates and establishment fees that may be charged to borrowers on their OurMoneyMarket personal loan based upon their loan grade and loan term.
| | | | | |
| --- | --- | --- | --- | --- |
| Loan Grade | 3 years loan term interest rate | 5-years loan term interest rate | 7-years loan term interest rate | Establishment Fee |
| A+ | 8.05%-9.00% (comparison rate 9.06%-10.02%) | 8.40%-9.75% (comparison rate 9.04%-10.29%) | 9.00% – 10.30% (comparison rate 9.47%-10.78%) | 1.50% |
| A | 9.35%-10.60% (comparison rate 10.88%-12.14%) | 9.95% – 11.75% (comparison rate 10.91%-12.73%) | 10.60% – 12.95% (comparison rate 11.32%-13.70%) | 2.25% |
| B | 11.20% – 13.75% (comparison rate 13.09%-15.67%) | 12.45% – 15.85% (comparison rate 13.56%-17.10%) | 13.75% – 17.55% (comparison rate 14.67%-18.42%) | 3.25% |
| C | 14.65% – 18.75% (comparison rate 16.82%-21.08%) | 16.65% – 22.25% (comparison rate 18.13%-24.07%) | 18.75% – 28.25% (comparison rate 19.92%-29.59%) | 4.00% |
| D | 20.25% – 31.75% (comparison rate 23.50%-35.04%) | 25.75% – 32.95% (comparison rate 28.00%-35.37%) | 31.75% – 33.75% (comparison rate 33.70%-35.75%) | 6.00% |
A minimum establishment fee of $150 is applied to every loan. Also, the lender does not have any additional monthly fees on its personal loan.
In addition to the above-mentioned costs, borrowers may also have to bear the following costs in case certain events occur during the loan term.
Loan variation fee of $35, charged in case borrowers need to make variations to their loan terms and such variations are approved by the lender.
Document production fee of $25, to be paid for every request made by borrowers for documents pertaining to details of the loan to be sent as a hard copy.
A loan cancellation fee of $150, charged if the borrower cancels a loan after it has been approved but before funds have reached the borrower's bank account.
Late/overdue payment fee of $35 for every late payment, to be paid after every 5, 14, 21, and 30 days of the due payment date.
A direct debit dishonor fee of $25 for every dishonored payment.
Any enforcement expenses that are incurred by the lender in case a borrower fails to repay a loan amount in full.
The following table illustrates the total repayment borrowers can expect to make on a personal loan taken out from OurMoneyMarket.
| | | | | |
| --- | --- | --- | --- | --- |
| Loan Amount | Loan Term | Borrower's Credit Rating | Indicative Rate | Total Repayment |
| $5,000 | 3 years | Excellent | 8.05% | $5,796 |
| $10,000 | 3 years | Very Good | 9.35% | $11,736 |
| $15,000 | 5 years | Very Good | 9.95% | $19,380 |
| $20,000 | 5 years | Good | 12.45% | $27,360 |
| $25,000 | 7 years | Average | 18.75% | $45,780 |
| $30,000 | 7 years | Below Average | 31.75% | $76,524 |
Pros and Cons
Borrowing from OurMoneyMarket has the following pros:
Low-interest rates charged to borrowers with a good credit record.
A fast application process, as it is completely online.
No hidden fees associated with the loan product.
Open 24/7 so borrowers can manage their accounts at any time.
The following cons may be associated with the services provided by OurMoneyMarket:
Difficult to estimate the exact cost of the loan until the application form is submitted and the lender provides the finalized cost structure.
FAQs
How much can I borrow through an OurMoneyMarket personal loan?
OurMoneyMarket personal loans are given out for amounts between $5,000-$35,000.
How does OurMoneyMarket calculate my loan costs?
The lender uses the borrower's credit history and individual circumstances to determine the applicable loan costs.
When will I receive my loan funds after it has been fully funded?
After a loan has been fully funded, borrowers may receive the funds in 1-3 business days.
Do I need to provide bank statements for the loan approval process?
Yes, borrowers need to submit bank statements for the past 3 months which can be done through the Yodlee service.
Eligibility Criteria
The eligibility criteria set by OurMoneyMarket requires that applicants must:
Be over the age of 18 years
Be a permanent resident or citizen of Australia
Have an annual gross income that exceeds $25,000
Have the required credit score
Not be experiencing any difficulties with some other financial service provider
Not have any undischarged listings for bankruptcy on their credit file.
Customer Support
To connect with an OurMoneyMarket customer support representative, borrowers need to call 1300 990 115 from 9 AM – 5:30 PM AEST on weekdays. Alternatively, borrowers may also send an email at [email protected] to connect with a representative.
Application Process
To apply for an OurMoneyMarket loan, customers need to follow these steps.
Step 1 – Get a free rate quote
Go on their website and enter the required details on the Borrow form, as shown below.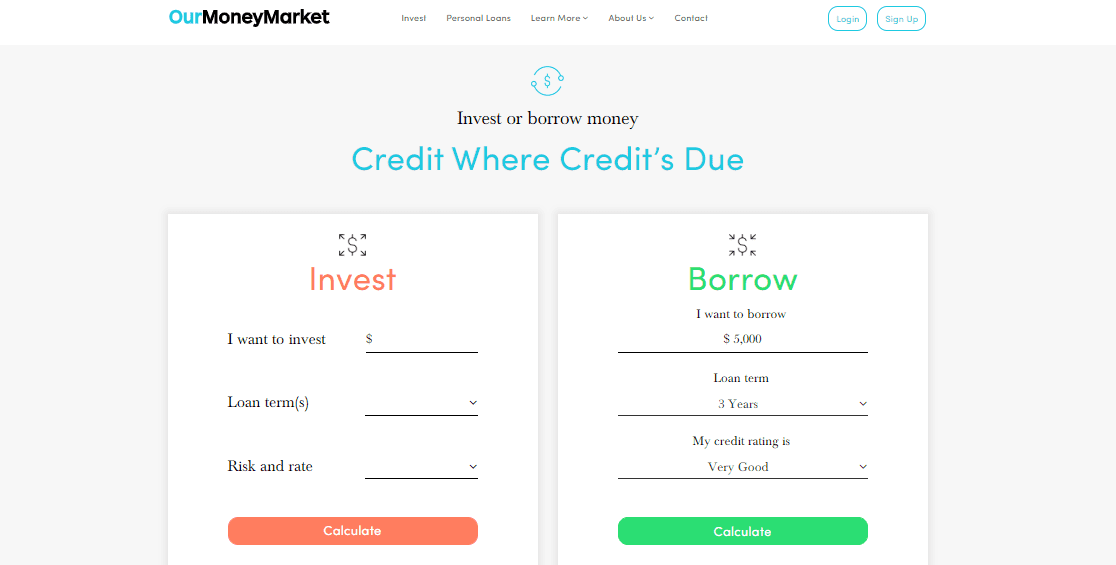 Then, click Calculate, and the following window will be displayed, showing you the estimated loan terms for your required loan.
Click on Get Started to find out your personalized rate and proceed with the loan application by following on-screen instructions.
Step 2 – Apply
Once you have your personalized rate, if it's acceptable to you, then submit the online application form.
Step 3 – Wait for the credit decision
OurMoneyMarket conducts an online investigation to verify your information and confirm your credit history and may ask for additional documentation as well. Once all assessments have been made, the lender offers a loan contract to the borrower outlining all terms and conditions applicable on the loan.
Step 4 – Accept the loan agreement
Borrowers need to accept the loan offer for it to be placed on the investor marketplace for funding.
Step 5 – Receive loan funds
OurMoneyMarket, upon receiving approval from you, will place your loan on the online investor marketplace. Once it has been fully funded, the loan amount is disbursed into the borrower's designated bank account.